It's 1780, and stalwart town leader Jacob Blum can't find a wife. The pickings are slim in the North Carolina backcountry, but village elders won't let him choose just anyone. In desperation, he suggests the town foundling, a most unlikely match. To the Cherokee who raised her she was "Wanders Lost," a white orphan in a land ravaged by revolution. To the Moravains of Salem, North Carolina, she was Mary Margaretha, a spirited young woman barely civilized by her years among their prim sisters. To rugged Jacob Blum she was Retha, his new bride, a blazing beauty who stirred his blood.
Drawn by a passion that matched Jacob's own, Retha wanted nothing more than to be a loving wife. Yet before she could completely give herself to Jacob, she had to overcome the ghost of her mysterious past, a past whose memories made her tremble at the very touch she so deeply craved.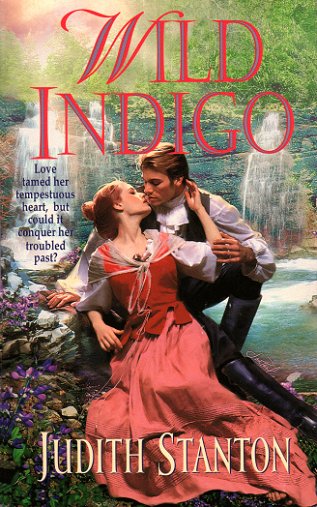 REVIEWS
Judith Stanton's talents shine in this incredibly moving story. A dozen roses and many stars are in order for this gifted author.
~ Barbara Corrington, Romance Communication's Reviewer's Award
A strong new voice. Don't miss this unusual and captivating story. And — be on the lookout for the sequel next year. (read complete review)
~ Cathy Sova, The Romance Reader
Spectacular in every way!
~ Rendezvous
One of the best historical novels I've read all year. Bravo for a fine story, Ms. Stanton!
~ Connie Ramsdell, Bookbug on the Web
For a glimpse into little-known pages of our country's history, pick up this book–you won't be disappointed. Very Highly Recommended.
~ Deborah Roy, Under the Covers
An outstanding first novel rich with historical details about life in the Moravian community. Retha and Jacob are characters every reader will care about.
~ Maudeen Wachsmith, Under the Covers
Wealth of historical detail …. The community comes alive, with stories of everyday life and everyday people in a little-known chapter of American history.
~ Jeri Wright, Under the Covers
A fresh approach to a traditional storyline, and new insight into American Revolutionary history.
~ Romantic Times
WHAT READERS SAY ABOUT WILD INDIGO
The best historical romance I've ever read. I mostly read historical ficiton, but I read a lot of historical romance, as well. This is the first historical romance I've ever read that incorporated what I love about both genres so beautifully. Interesting, well developed characters; a multi-layered plot; well researched history; an engrossing relationship. It has it all. I particularly loved the hero and his internal conflict. I've read this book twice now.
~ Customer Review on Amazon.com
A great historical romance! I'm picky about romances, but I loved Wild Indigo. It's a nice change to read about a hero who's a man's man, but still decent and sensitive, not a jerk. The plot was a page-turner as well!
~ Customer Review on Amazon.com