"If loving Julia was mad, he should give lunacy a chance."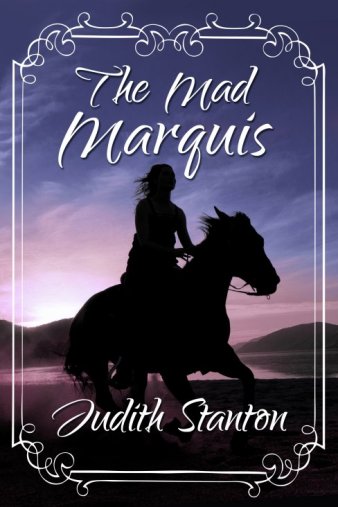 .
Unconventional horsewoman Lady Julia Westfall is forced to marry Harry Pelham, Marquis of Rayne, her fiercest rival on the race track, to save her beloved horses. Her secret love since girlhood, he is still her secret dream. But what the widowed Marquis proposes is a nightmare—a loveless marriage with no children. A woman who races her own stallion for the challenge and the thrill can hardly be expected to rein in her passion.
Her new husband sees his dotty Aunt Augusta, loopy Uncle Bertie and lonely daughter Isabeau (who goes everywhere with her imaginary friend) as proof that madness runs in his family, proof that siring more children would destroy the estate. Behind his back, Aunt Augusta helps Julia plot his seduction, Uncle Bertie teaches her to dance for the annual fall ball, and Julia goes against Harry's orders to help his lonely daughter come out of her shell and learn to ride.
When he still spurns Julia's advances, she challenges him to a match race—her on her best mare against him on his best stallion. If he wins she'll stop trying to seduce him, but if she wins, he'll let her have her way. But the race is sabotaged, and Isabeau goes missing. Only Julia may know how to save her, and truly win her husband's love.
REVIEWS
Snappy dialogue and a wonderful cast of unstereotypical characters. It's fast-paced, a compelling page-turner, and just plain fun!
~ Romantic Times
In the capable hands of Judith Stanton, readers receive a terrific tale starring a strong cast that leads to a delightful novel…a fabulous nineteenth century romance.
~ Midwest Book Review
This book sizzles like nobody's business. If you enjoy marriage-of-convenience plots and steamy sex and especially if you have an interest in horses and horseback riding, you'll love this tale of a marquis who marries a horse-loving woman to get her prize-winning horses but instead gets much more than he bargained for.
~ New York Times bestselling author Sabrina Jeffries
A sparkling romantic gem.
~ AromanceReview.com
.
WHAT READERS SAY ABOUT THE MAD MARQUIS
Even if you don't know thing number one about horses, you can get engrossed in this tale of two horse-mad people who are thrown into a marriage of convenience. Our heroine is a thoroughly single-minded woman with her own definite set of priorities, and our hero is wonderfully paranoid about his dotty family and reputation…Tension builds to a page-turning frenzy as each stonily refuses to give in to the other. Two dynamic leads and a solid plot gave me a very enjoyable afternoon's reading!
~ Carol A. Strickland
.
Montlake Romance.
ISBN 14778423223